Flash Design
Bring Your Website to Life with Animated Flash Design
UK Flash Design Experts to Liven Your Site
What does flash design do for your website? Well for starters, it can make it a lot more exciting to look at. Flash is that extra cool element that takes your website from boring to entertaining. From cartoons that come to life; to books that pop open; to bricks that build themselves; to wheels that spin and dials that turn; or whatever magic rabbit you'd like to pull out of a hat (literally!); flash presents the visual stimulation that your customers will intrigue your customers.
However, there is a fine line between kooky and "too busy" – to simple, clean and splashy. Our flash designers have a sophisticated style that will appeal to your businesses professional image so that it turns your customers on rather than off.
Take a look at a few of the flash website designs we have made recently: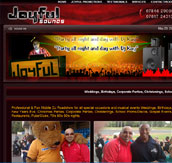 When you're ready, get a
free flash design
quote for web online design that bedazzles and impresses your clients. Revamp Works can have your web design done... in a FLASH!